General Information
On this page, you will find information to assist with the teaching of courses in the English learning area.
An online space has been established to provide an opportunity for teachers to collaborate across sectors, and share resources and ideas. Instructions on how to join can be found on the Communities of Practice page.
The Curriculum Leader for English can be contacted via email at years9-12learning@decyp.tas.gov.au.
Course Development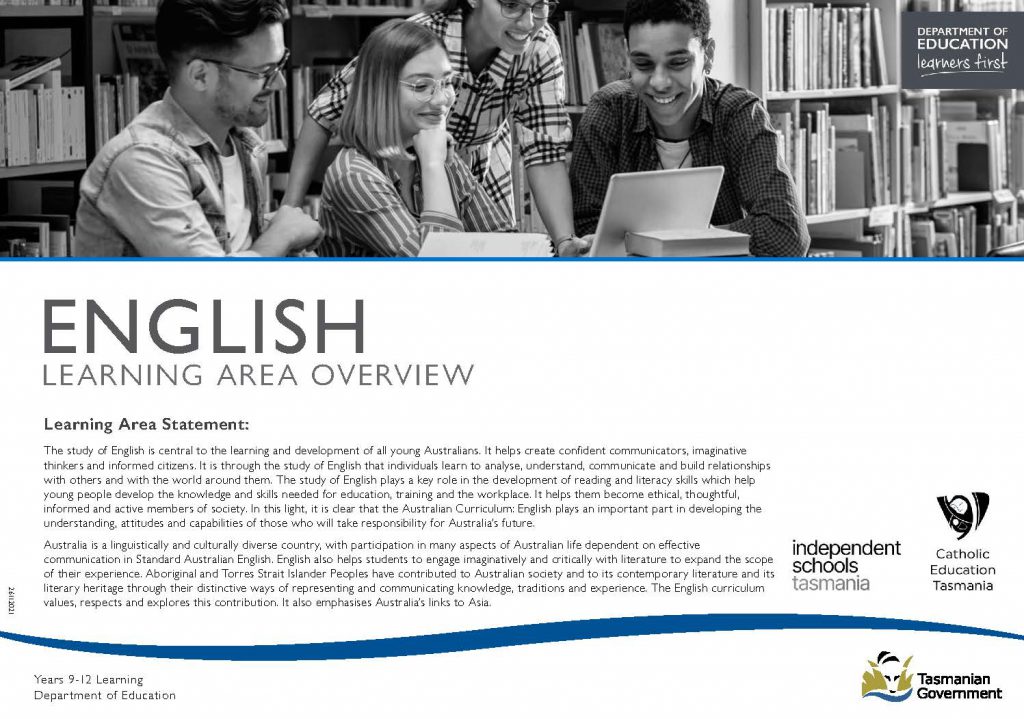 Teachers and the wider educational community are key partners in the course development process in the Years 9 to 12 Project. The Learning Area Overview includes the current course offerings and a staged process of replacing or creating new courses. For more information visit the Planned Course Provision section of this website.
Course Development Status

Course Development Phase
Courses
Course Concept
English Level 2
English Level 3
Course Development Planning
Essential Skills Literacy 2
Initial Course Development
Public Consultation and Revision
TASC Formal Review and Feedback
Course Refinement
Public Consultation and Revision
Pre-Accreditation
Submission for Accreditation
English Studio 2
English Studio 3
Further Development
Newly Accredited
English Inquiry 1 (for use from 2023)
English Inquiry 2 (for use from 2023)
English Inquiry 3 (for use from 2024)
Updated course accreditation information can be found on the TASC website.
Courses
Information to support the delivery of courses currently accredited by TASC can be found below.
English Inquiry Level 1 (New for 2023)
English Inquiry Level 2 (New for 2023)
English Writing (Expires on 31 December 2023)
Essential Skills – Reading and Writing (Expires on 31 December 2023)
Learning Area Advisory Group
The purpose of Years 9-12 Learning Area Advisory Groups (LAAGs) are to provide strategic advice and feedback to the Learning Area Curriculum Leader in relation to the development and implementation of courses and qualifications that are accredited and recognised by the Office of Tasmanian Assessment Standards and Certification (TASC). The LAAGs form part of the advisory and consultation structure for Course Development Activity which also includes Critical Friends and Sponsor Schools.
Membership of Years 9-12 LAAGs